About me
Who is behind kayamo?
I'm Anne, I'm 38 years old and I live in beautiful Schleswig-Holstein. It quickly became clear to me that I wanted to work with my hands. That's why I decided to train as an occupational therapist. Manual techniques are a major focus during the training. So, at the age of 16, I started to learn a wide variety of manual techniques. Bookbinding, weaving & basket weaving are just some of the topics during the practical training. I was able to get a taste of many different crafts and learn the basic techniques. During this time I also learned the basics of pottery. And what should I say? - Pottery never let go of me. Again and again I attended small courses and workshops and got to know different techniques and styles. In 2020 I fulfilled my dream of having my own ceramics workshop. My little potter's paradise was created on 25 square meters.

So far I enjoy every technique and try out many things. I enjoy working on the potter's wheel as much as I enjoy shaping and building pieces by hand. I'm still amazed at how fulfilling it is to create things with your own hands. It is like a small miracle that a lump of clay can be turned into a vase, a plate or a figure in just a few steps. I would like to share my knowledge and experience with you and cordially invite you to go on a journey of discovery "pottery" with me.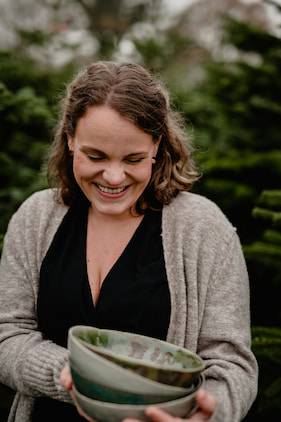 "I've never tried that before, so I'm totally confident that I can do it." This quote from Pippi Longstocking speaks to my heart. I am convinced that we can learn a lot. We just need the courage to try something new and some patience and perseverance. We often give up too quickly when something doesn't work out right away or when we can't get any further at a certain point. So it's good to have a partner at your side who can help with one or the other helpful tip, who can answer questions and provide inspiration. kayamo wants to be that partner. I would like to provide you with tips and tricks for pottery. Here you will find detailed video instructions for pottery and simple step-by-step instructions for implementing various ceramic projects. I would like to try new techniques with you and discover the world of ceramics. In addition to many instructions, I provide you with a large portfolio of templates. You can use these directly and get creative yourself.

Kayamo Shop
In the shop you will find handmade ceramics from me and a dear fellow potter from the neighboring village. I also currently offer you various soaps and some accessories. There are always new handmade pieces, so it's worth checking back often.
Advertising on kayamo
You may find promotional content on kayamo. These enable me to continue working on the blog and to keep developing new creative pottery ideas for you. But don't worry: transparency is very important to me, so the advertising is always clearly marked and thematically appropriate.